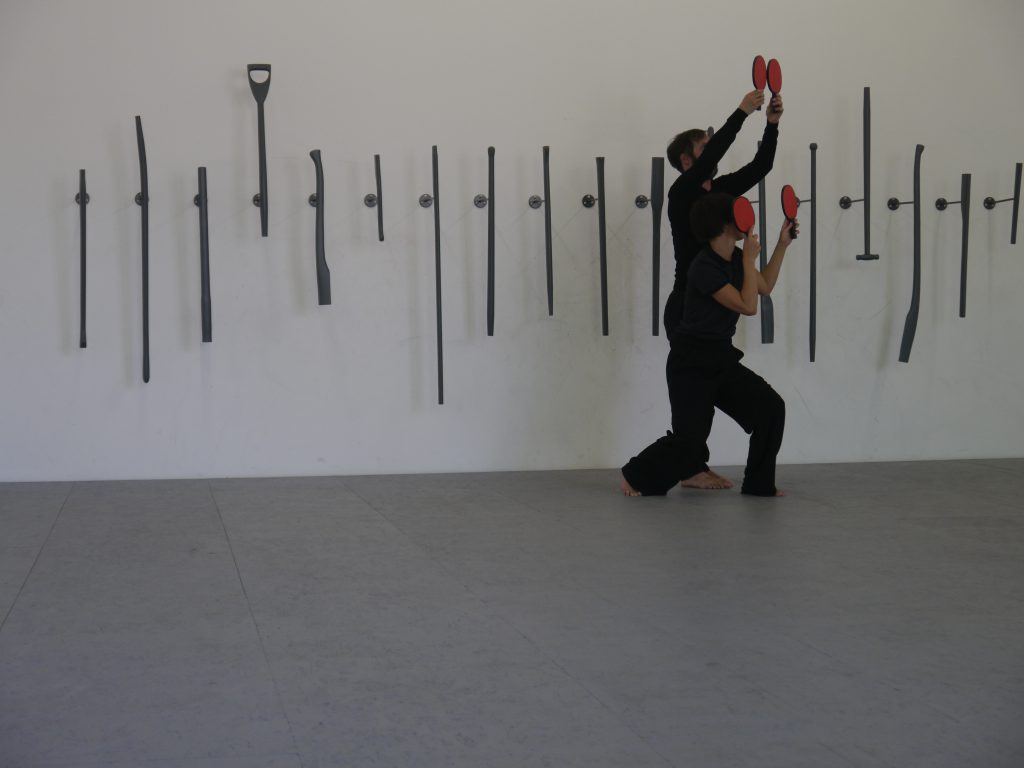 "Every time when an organ – or a function – frees itself from an old obligation, it invents something new. When the paw or hand is freed from the function of support of walking, it changes; it becomes the grasping organ and, finally reforms as a tool" (Michel Serres).
2012 the Fine Artist Fabian Reimann created a work called 'Hand Tool Interface', which deals exactly with the interface implied within the quote of Serres: the access to the tool and thus the object "made for both the shape of the hand and the tool itself". The result is a spatial installation, similar to an ethnological exhibition, which presents various toolsticks.
The duet 'TOOLS – a handjob' takes this installation as a starting point, in order to deal with both the evolutionary liberties that go with the upright walk as well as with physical activities.
Concept, choreography and performance: Florian Bücking and Raisa Kröger
Room: Fabian Reimann
Sound: Julius Born
Production and dramaturgy: Johanna Withelm
Thanks to: battleROYAL, Dock11
Premiere
16.06.2017 – Dock11, Berlin
further performances
17.06.2017 – Dock11, Berlin
28.04.2018 – Garage, Fahrbereitschaft/Haubrok (Gallery Weekend), Berlin
29.04.2018 – Garage, Fahrbereitschaft/Haubrok (Gallery Weekend), Berlin
Duration: 26 min. (incl. Intro)
This post is also available in:

Deutsch