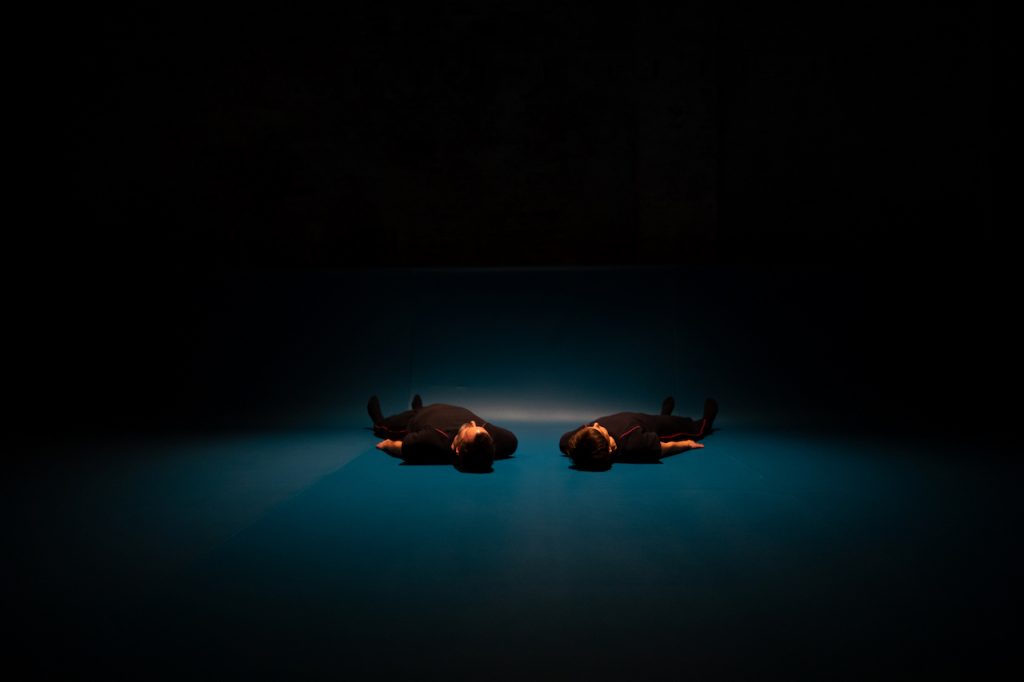 PRACTICE by bücking&kröger is a choreographic work about practicing. Two dancers explore techniques of repetition and practice and address questions of virtuosity and body techniques as coping strategies. How did certain movement techniques become inscribed in our bodies? How did we become what we are, how do our movement techniques, trained over decades, influence us and how do they determine our artistic practice? Florian Bücking and Raisa Kröger use physical exercises to search for perfection and for personal bodily resilience – while being aware of the permanent failure and the physical vulnerability that cannot simply be erased.
Concept / Choreography / Dance: Florian Bücking, Raisa Kröger
Dramaturgy / press/public relations: Johanna Withelm
Sound: Julius Born
Costume: Malena Modéer
Lighting: Martin Pilz
Stage design: Daniel Pakendorf
Graphics: Fabian Reimann
Production management: Katharina Meyer
Photo: Mayra Wallraff
A production by bücking&kröger.
Supported by Fonds Darstellende Künste with funds from the Federal Government Commissioner for Culture and the Media within the framework of NEUSTART KULTUR.
Supported by Garage.
Premiere:
15.12.2022 – Dock 11, Berlin
Further performances:
16.12.2022 – Dock11, Berlin
17.12.2022 – Dock11, Berlin
18.12.2022 – Dock11, Berlin

Duration: 50 min.
This post is also available in:

Deutsch